Should You Include Your Dog in Your Proposal?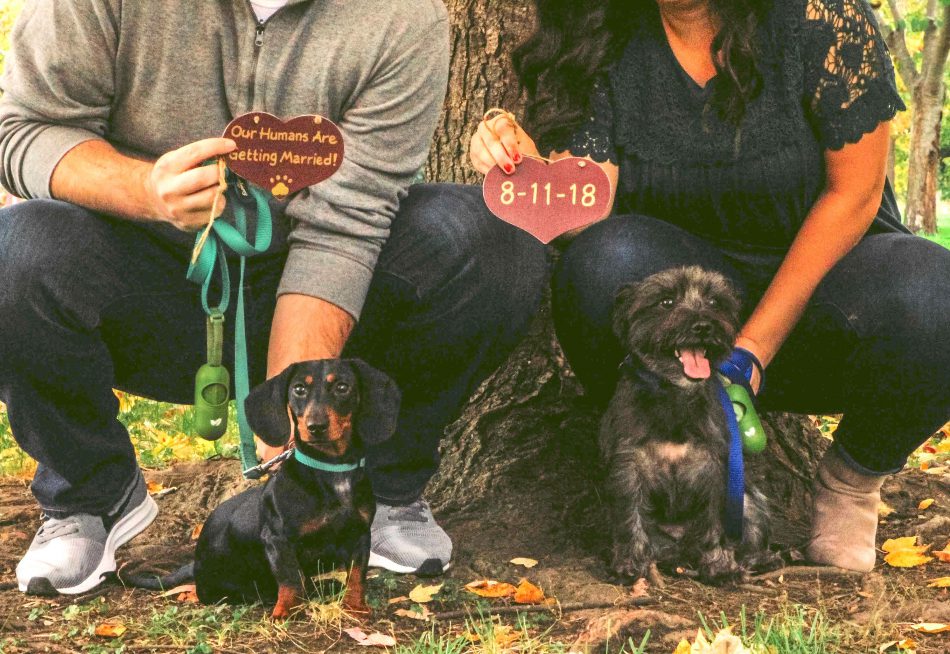 If you have a dog you want to include in your marriage proposal, there are plenty of romantic ways to include him or her without taking away from the moment. As you look for memorable proposal ideas, take a look at our checklist for the best ways to include your dog in your engagement.
Do: Create an Adorable Message for Your Dog
If your dog is an important part of your relationship, there are plenty of adorable roles you can give him or her. Consider creating a custom collar or bandana that says something like "will you marry my dad?" This can be an adorable way to start your proposal as she walks into a venue filled with flowers, photos, and candles. When she sees your dog and his message, this is your time to take the lead and start expressing your emotions before getting down on one knee.
This not only makes the proposal a family affair, but you'll have plenty of swoon-worthy moments that will make for beautiful photography.
Don't: Surprise Her with a Puppy
As much as she loves puppies, surprising her with a brand new puppy and an engagement might take away from the beauty of your proposal. Unless the two of you have talked in length about the idea of getting a puppy, springing this type of responsibility on her during your proposal might add some unneeded stress, especially on a day that's supposed to be full of romance and magic!
Do: Include Your Dog in Engagement Photos
If you don't want to include your dog in the actual proposal, you can still create some memories by including him in your engagement photos. A "family" photo as you hug your dog will show the love and connection the three of you share. You can also create a fun sign saying "she said yes!" or "my parents are getting married" that your dog can hold from his mouth.
These photos can also be a fun way to announce your engagement to family and friends on social media!
Don't: Trust Your Dog with the Ring
As much as you love your dog, tying the ring around his collar or trusting the dog to carry the ring to you is a lot of responsibility–and it can be nervewracking! Unless your dog is extremely well-trained and can handle this sort of task, it might be best to hold onto the diamond yourself with a compact engagement ring box that can be hidden easily in your pocket.
If you're ready to plan a romantic proposal that incorporates your dog, contact Proposal-Ideas.com to get started!